G3 Systems capability includes the design, delivery and operation of equipment and facilities on a global basis based on our understanding and experience of the demands of operating in remote locations and harsh environments.
---
Additional Capabilities
Critical Infrastructure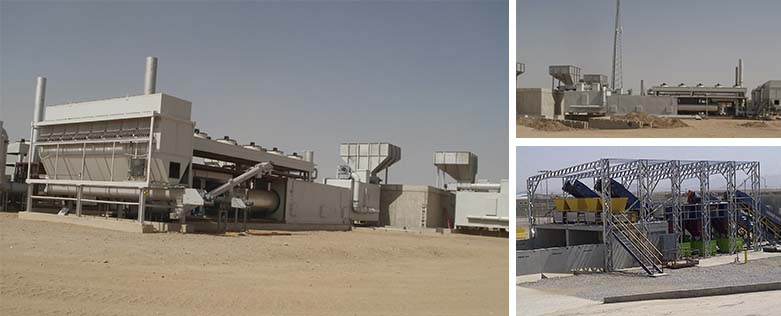 G3 Systems has the expertise and skills to deliver a comprehensive range of products and services. Our capabilities are underpinned by wide and diverse experience in the innovative design and delivery of specialised systems, infrastructure and logistic support to a diverse range of clients, meeting varied and demanding requirements. Our products and services have supported operations in challenging and arduous environments – ranging from military operations in Afghanistan and Iraq and the mining industry in West Africa, to medical infrastructure support in Libya and systems used afloat in the maritime environment. We have a full and comprehensive understanding of how to take our customers' requirements and translate them into practical, innovative and effective solutions. We are used to providing products and services in line with international quality standards.
Training Services

G3 Systems is contracted to provide training on the majority of equipment for which it is the OEM. These training courses vary from Train the Trainer courses to Level 1 Operator courses and Level 1 & 2 Operator Maintainer Courses. The courses are designed from an initial Training Needs Analysis (TNA) carried out by MOD Training Development Teams or by G3 Systems and developed around the technical manuals or AESPs with adherence to warnings and cautions and legislative standards. All courses are developed to closely mirror the MOD style of training course production. Training documentation includes fully developed instructor specifications, lesson plans and course schedules.
Currently G3 Systems has developed a series of DEW System training courses tailored to suit the needs of the User. These range from a full 2 week deployment, familiarisation and take down training course to a shortened one week course which is tailored to meet user requirements. The training courses cover the following:
Set up and layout of each sub component of the system ensuring personnel are capable of conducting stated tasks individually and/or as a group to ensure safe deployment of DEW Structures and equipment
Familiarisation training conducted on each of the trade specific container workspaces. The training also covers the maintenance and routine servicing of the components required to be conducted by the user as part of the routine operation of the system
Recovery training – which is the take down of the structures, decommissioning of equipments, inspection and packing of the system into the appropriate stowage for redeployment or storage.
This training has been delivered to the user at various locations worldwide either as a dedicated training course or as part of the system set up during operational deployments with G3 Systems on site to help and advise the users during initial setting to work of the DEW system. Locations include Canada, Afghanistan, Germany and the UK. This training has also been provided to the Royal Navy Forward Support Unit in Bahrain.
Previous training programmes
G3 Systems have additionally provided bespoke training courses on other MOD owned systems such as the DE&S OIP Team on their Operational Hygiene Systems as well as train the trainer and operator and maintainer training delivered to the British Army and the Royal Air Force.
The training courses required for the G3 Systems capabilities are already developed and require little or no further development. Any other requirement to develop training for future systems will be approached in the same way as above with the completion of a TNA in association with the system user group leading to development of a full course.
Training course delivery can be undertaken at any location worldwide as already detailed and this demonstrates that G3 Systems have experience of delivering training to a wide audience at a variety of levels and locations
CBRN Systems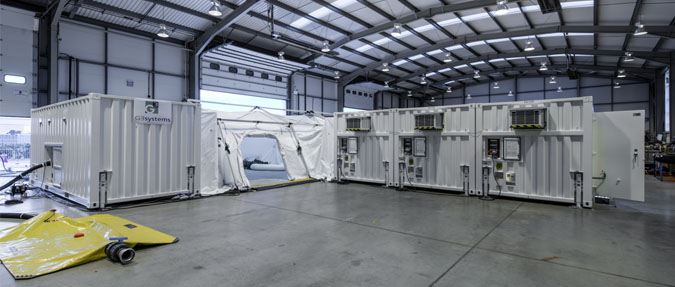 The proliferation of CBRN weapons continues to be among the most pressing threats to global peace and security.
In order to help address this threat G3 Systems can provide full CBRN decontamination and protection capability, including mass personnel decontamination systems and mobile shelters fitted with all the necessary systems. With our capability; Government, Military and Humanitarian Organizations can decontaminate equipment, vehicles, personnel, and civilians, and seek refuge in a clean and safe environment.
Our recent projects include:
COLPRO solutions
COLPRO systems provide protection for personnel and equipment, allowing the mission to continue or providing protective shelter for personnel to complete intensive tasks – without the need for debilitating personnel protective equipment.
G3 Systems have produced systems for both Commercial and Military uses – examples include EDF Energy and the UK Ministry of Defence
Mass Personnel Decontamination System (MBDS) for Project NATIONAL
Rapid decontamination after a major incident results in a significant reduction in casualties; significant reduction in contamination of third parties and a reduction in the burden on existing infrastructure i.e. contamination of hospitals by casualties who have not been decontaminated.
G3 Systems has developed a system which enables mass personnel and casualty decontamination 'in the field' for the UK MOD. The Mass Personnel Decontamination System (MBDS) has been accepted for use by UK MOD DE&S CBRN Team – in response to the UK MOD Project NATIONAL Requirement.
Fire, Crash & Rescue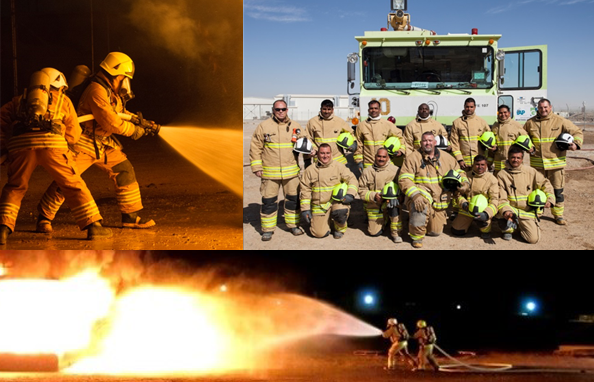 G3 Systems Ltd has provided Fire, Crash and Rescue services in order to respond to, extinguish, protect and provide salvage for emergencies at several remote and deployed locations globally. Our capability in this area includes:
Provision of Emergency Response to accidents and incidents involving aircraft: including munitions loaded aircraft
Emergency Response to accidents and incidents within ammunition and high hazard material storage areas
Providing on-scene standby presence for hazardous operations such as munitions loading and handling, and hot refuelling
Foaming of Runways for Emergency Landings in accordance with International Airport Services Standards
Monitoring aircraft operations during recovery, refuelling and defueling operations
G3 Systems currently has three FCR teams operating in Afghanistan. Each team consists of both medical personnel who staff the emergency medical vehicles and fire personnel who staff the fire equipment. We believe that the integration of first responders into a single team provides a streamlined, more efficient organization better able to respond to the complete range of first responder missions from minor accidents to mass casualty events. Additionally, we know from experience that such teams are more productive, cohesive, and possess a heightened 'esprit de corps'.
G3 Systems can also provide
Structural Fire fighting: emergency fire fighting services including extinguishing fires to prevent destruction of life, property and the environment
Development and delivery of comprehensive training program and provide live fire training to maintain core competency levels for all fire fighters
Provision of 24/7 Emergency Dispatch Centres (Fire Alarm Communications Centres)
Resilience

In 2013 G3 Systems were approached by a sub-contractor to EDF Energy Ltd seeking support in establishing a Japanese Emergency Response (JER) solution for EDF in the UK.
G3 Systems initial remit was the supply of the Access Control Point (ACU) 'pod city' capable of establishment and operation in a contaminated environment. This remit was then extended to provide equipment support and training to EDF Energy Turbine Support Group.
Working with the Turbine Support Group (TSG) (the team selected by EDF Energy to respond to significant incidents at its Nuclear plants in the UK) G3 Systems established a Concept of Operations (CONOPS) for training and began to design specific training for the TSG ERS teams.
Training follows a progressive path based on 'crawl, walk, run, refine, perform – and covers induction into emergency response (including working as a team and leadership skills), equipment familiarisation and use, role training – and culminates in a major multi-agency exercise.
This means that in practice the trained team is able to respond to a major call out or activation; arrive at a pre-arranged rally point; deploy as a complete team; arrive at and establish a staging / command post for the incident; reconnoitre a route to move emergency equipment to the damaged facility or incident area; and finally delivery heavy emergency equipment to the point of need.
Field Service Engineers
Field Service Engineer support for Philips CT Scanner
G3 Systems operates, repairs and maintains essential medical equipment in Iraq and Afghanistan that includes the Philips CT body scanner. For the CT Scanners, G3 Systems were originally contracted in 2006 to provide a hospital infrastructure in Theatre and were additionally contracted to supply and fit a CT Scanner. Following successful installation and commissioning of the CT Scanner G3 Systems were further contracted to support the equipment with the prime requirement to maintain high availability levels. Subsequently in 2009 G3 Systems were additionally contracted to support medical sterilisers and Washers within the Hospital.
G3 Systems support the equipment with a knowledge base in the UK. G3 Systems Support Engineers who have been specifically trained in support of the equipment are maintained in the UK on a 24/7 call out basis as required by the UK MoD. For the CT scanner this knowledge base includes a detailed support package contract with the equipment OEM.
Field Service Engineer support for MAN Vehicles
As part of the Military build up in Afghanistan an Urgent Operational Requirement was issued to deploy the new MAN military vehicles just being delivered to UK forces at the time. This was new equipment and the commensurate support details for maintenance and repair had not been fully delivered. Training of Military technicians was also limited leaving a gap between actual and required support capability. As an expeditious resolution it was decided that 6 specialist Technicians, called Field Service Engineers (FSE), would be deployed to Afghanistan with full access to MAN manufacturing information and having received commercial specialist training. These FSE's have the full time task of advising Military Staff on maintaining the vehicle fleet acting as a link between the technical details of the equipment and the capability of the maintenance staff. Additionally they would offer a level of continuity which would normally be lost with the roulement of deployed units. G3 Systems having the infrastructure in Afghanistan to establish support and operate the FSE's entered into a contract with MAN in 2008 to supply this service.
Logistic Support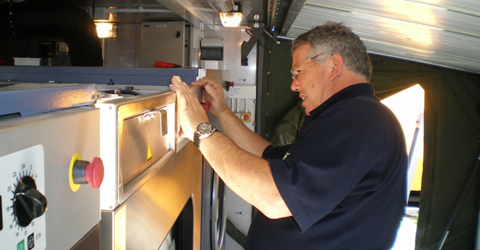 Our services include the provision of through life logistic support, post design services (PDS), spares provision and Field Service Engineer (FSE) support. As well as our own systems and products, we provide support services for other manufacturers on a global basis.
Our range of capabilities and activities includes:
• On call support for equipment, systems and infrastructure on a global basis through teams of mobile FSEs and forward deployed engineers• Storage, servicing and maintenance of client owned equipment & systems both in the UK and overseas• Training and simulation systems support• Material and design support for G3 Systems' own products• Spares purchasing and resale activity
We cover the full spectrum of deploy – set up – support & maintain – recover – regenerate and store.
Mobile Power Systems
In recent operations the cost to deliver a single litre of fuel to a remote Forward Operating Base (FOB) in hostile environments was startlingly high in both financial and human terms. The demands of fuel consumption in remote environments are also cause for significant concern for commercial operators.
This has highlighted the benefits of renewable energy in remote, harsh locations. However, powering critical equipment that is not tied to a main electric grid and managing that power are two substantial challenges that must be met with consistency and 'clean' power.
G3 Systems ability to integrate and deliver deployable renewable energy systems is helping soldiers and other agencies operating in harsh or hostile environments to address those challenges with far more efficient operation than standard diesel generators. G3 Systems products provide features that are evolving with both the military's and commercial demands and requirements – providing rugged, modular designs for easy deployment.
Our containerized deployable energy systems, which combine solar, wind and smart energy storage, can run both at maximum continuous output and at low capacity while maintaining high efficiency without issues typical of generator sets.
Deployable renewable energy systems have standard footprints, and come in sizes based on a 20-foot, ISO shipping container.
For example, systems can be one-third the size of a container (Tricon) or one-quarter the size of a container (Quadcon) for transport over land, sea, or air. The systems construction includes shock resistance to prevent damage during transport and handling, and they adhere to mil spec environmental requirements.
Power outputs for deployable renewable energy systems can range from 2 kW or 3 kW up to 60 kW, and meet both commercial and military 3 phase standards for power generated equipment.
Containerised Solutions

G3 Systems offers a wide range of custom designed containerised solutions.
Examples include:
• Deployable Emergency Response Facilities
• Military Working Dog Accommodation
• Combined Instrument Repair Facilities
• NATO Submarine Rescue Systems
• Operational Field Catering Systems
• Deployable Emergency Response Facilities
Life Support
G3 Systems capability in constructing 'life support' facilities in remote and hostile environments is considerable. A key example of our capability is Camp Quargha:
In early 2013 G3 Systems were approached by the United Kingdom Ministry of Defence (Defence Infrastructure Organisation) on behalf of the Customer Works Group Royal Engineers who were seeking a contractor to design and build Life Support Infrastructure at Quargha, Kabul; Afghanistan.
The requirement was to construct a life support area for up to 400 personnel within the boundaries of the Afghan National Defence University at Qargha, Kabul providing infrastructure uplift for a camp with a design life of 10 years.
This is the 'Sandhurst in the sand' facility as described in UK media reports.
The scope of works was completed in two phases in conjunction with the Authority so that routine military works could continue during the construction of the base. This included the support works prior to main build:
Re-siting of existing local national shops and restaurant
Establishing a 5 MVA generator farm with a totalising panel and switchgear facility, plus 80,000 litre supply fuel storage.
Power distribution system throughout the new and existing site with ATS and UPS capability.
Borehole and water treatment plant, producing 60m3 of potable water per day with 300,000 litres of storage.
Waste and surface water collection
The main construction consisted of protected accommodation (both single and double storey) to accommodate 400 personnel, complete with ablutions and services. Additionally, G3 Systems constructed a guardroom, QRF facility, offices, accommodation, vehicle workshops, communications facilities and a major medical centre.
Following contract award on 27th February 2013; G3 Systems personnel mobilised in theatre to start work in March 2013 and delivered the facility for acceptance on 22nd November 2013 – after only 8 months.
Programme & Project Management
At G3 Systems Ltd our project management team has delivered major infrastructure projects in remote and sensitive locations ranging from the Middle East to North Africa, as well as complex and sensitive projects the UK and the US
The teams' qualification to practice ranges from Masters Degrees (MSc in Project Management) to Prince2 practitioner – as a minimum our team members are MAPM; and we focus our qualifications and experience into successful delivery.
We combine many years' experience with proven methods and tools and ensure our client's particular requirements, operational environments and organisational needs are tackled appropriately and effectively.
Our clients have ranged from Government Agencies to waste disposal companies – and we have delivered a very wide range of projects including:
Hospitals and Medical centres
Major deployable remote site camps and accommodation facilities
CBRN decontamination systems
Workshops and complex deployable infrastructure
Secure Government Communication facilities
Special Forces / Special Operations compounds
G3 Systems specialises in delivering total solutions on fixed price packages of work. This requires effective project management, supply chain management and an in-depth understanding of technical integration challenges. This way we help our clients to minimise risk and to deliver technically challenging programmes from different locations.
G3 Systems Project & Programmes team has received numerous customer accolades from both Governments and NATO agencies. Additionally, we have delivered very high profile projects (such as Camp Qargha "Sandhurst in the Sand") on time and to budget.